Technology, data and consumerism have shaken up nearly every sector of the healthcare industry, from patients to providers to health insurers to pharmaceutical companies. Digital Health innovators looking to harness emerging technologies face ever-increasing legal gray areas that require future-looking solutions.
At the forefront of the transforming Digital Health landscape, McDermott works with emerging and established organizations to make sense of it all and develop creative solutions to the transactional, regulatory and compliance obstacles that can slow adoption and growth.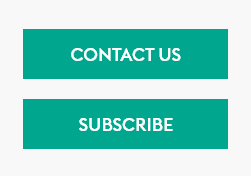 NAVIGATING VOLATILE MARKETS IN THE DIGITAL HEALTH ECOSYSTEM
Workforce Management Solutions in an Uncertain Economic Environment
Managing Capitalization Structures and Investor Relationships in Today's Digital Health Market
Markets Under Pressure Strategies for Restructuring and Risk Management
Trailblazing with Digital Health Pioneers
The McDermott Digital Health team sits down with CEOs, founders, strategists, investors and other industry leaders to share their insights on the state of digital health today, their journeys within the sector, thoughts on where we're heading next and more.
Episode 9: Dr. Damon Broyles, Vice President, Clinical Innovation, Mercy Technology Services
Episode 8: Liz Rockett, Managing Director, Kaiser Permanente Ventures
Episode 7: Andrew Davies, Digital Health Lead, Association of British HealthTech Industries (ABHI)
Episode 6: Michelle Davey, Co-Founder and CEO, Wheel
Episode 5: Dr. Karen Murphy, Chief Innovation Officer, Geisinger
Episode 4: Lee Shapiro, Co-Founder & Managing Partner, 7wireVenture
Episode 3: Dr. Humayun "Hank" Chaudhry, President & CEO, FSMB
Episode 2: Micky Tripathi, National Coordinator for Health IT, ONC-HHS
Episode 1: Dr. Farzad Mostashari, CEO & Co-Founder, Aledade Inc.
Digital Health Report: Reviewing 2021 and Looking Ahead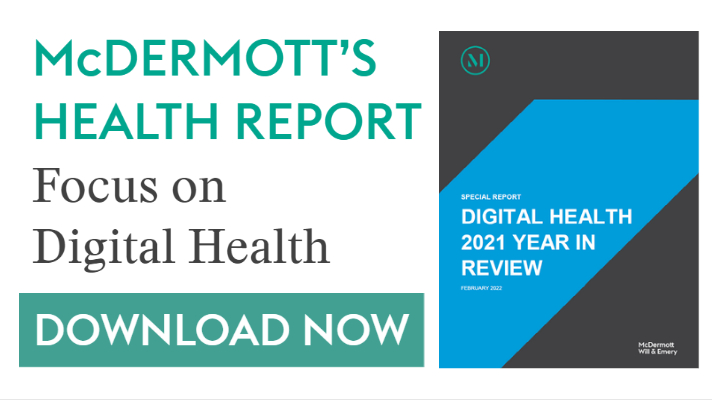 The continuation of the COVID-19 public health emergency (PHE) and consumer demand for digitally delivered healthcare not only necessitated the shift from in-person to virtual care, but also continued to drive interest, adoption, investment and transactions in digital health in 2021. Digital health funding in 2021 far surpassed 2020's totals, with no signs of slowing down in 2022, and the potential permanence of some regulatory flexibilities beyond the PHE are charting a course for continued digital health growth in 2022 and beyond.
SPOTLIGHT ON TELEHEALTH TRANSFORMATION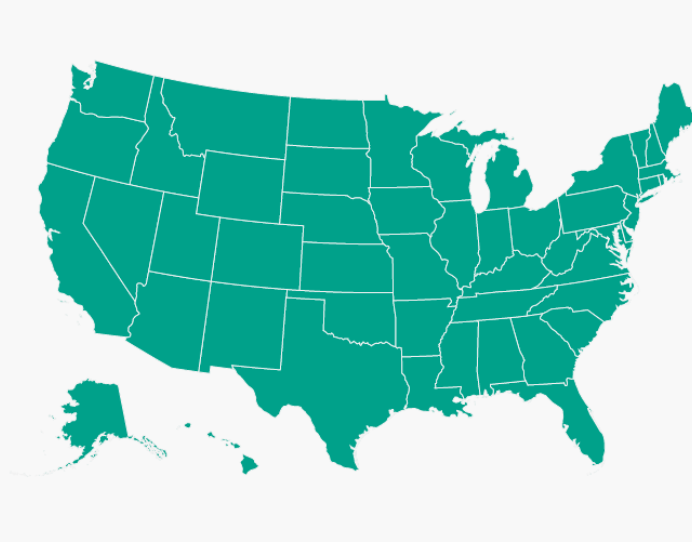 Telehealth is at a turning point.
New regulations and reimbursement practices have gained new traction and telehealth adoption rates have skyrocketed among patients and providers alike. Providers, payors, tech developers and patient advocates have an opportunity to launch, develop and implement telehealth solutions—but to do so successfully, they need intensive legal, business and government strategies counsel.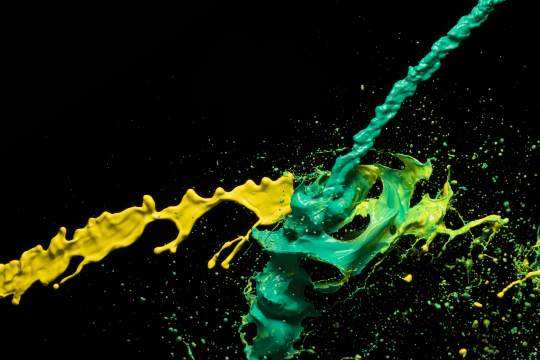 McDermott at the 2023 J.P. Morgan Healthcare Conference
Industry leaders, innovators and investors from across the healthcare industry will gather together for two days of exclusive, hybrid events at the largest healthcare investment symposium. Join executives from PE firms, investment banks, hospitals, health systems and other industry-leading organizations for discussions on the critical business and legal issues encountered by leaders across the healthcare industry.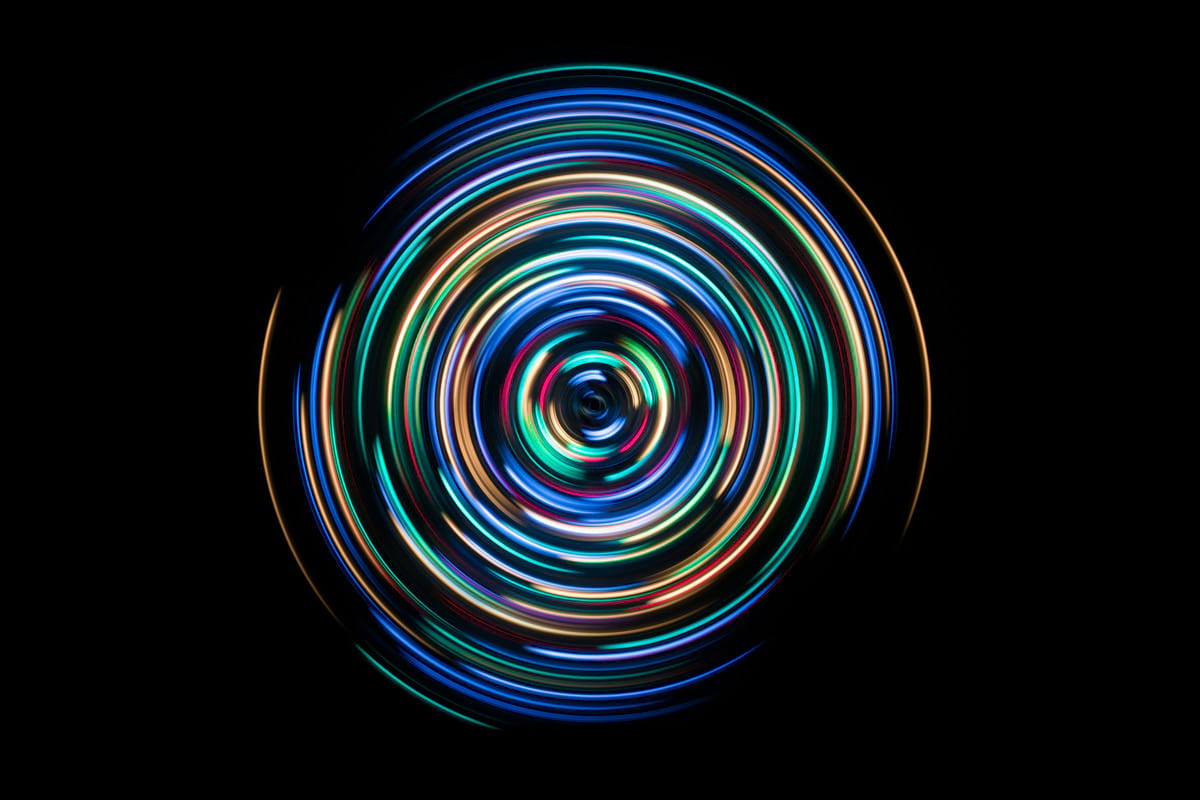 2022 McDermott Digital Health Forum
Our inaugural Digital Health Forum brought top industry executives, founders, entrepreneurs and investors from across the full digital health ecosystem together in New York for networking and robust panel discussions on the legal, business, operational and transactional issues impacting the future of care delivery.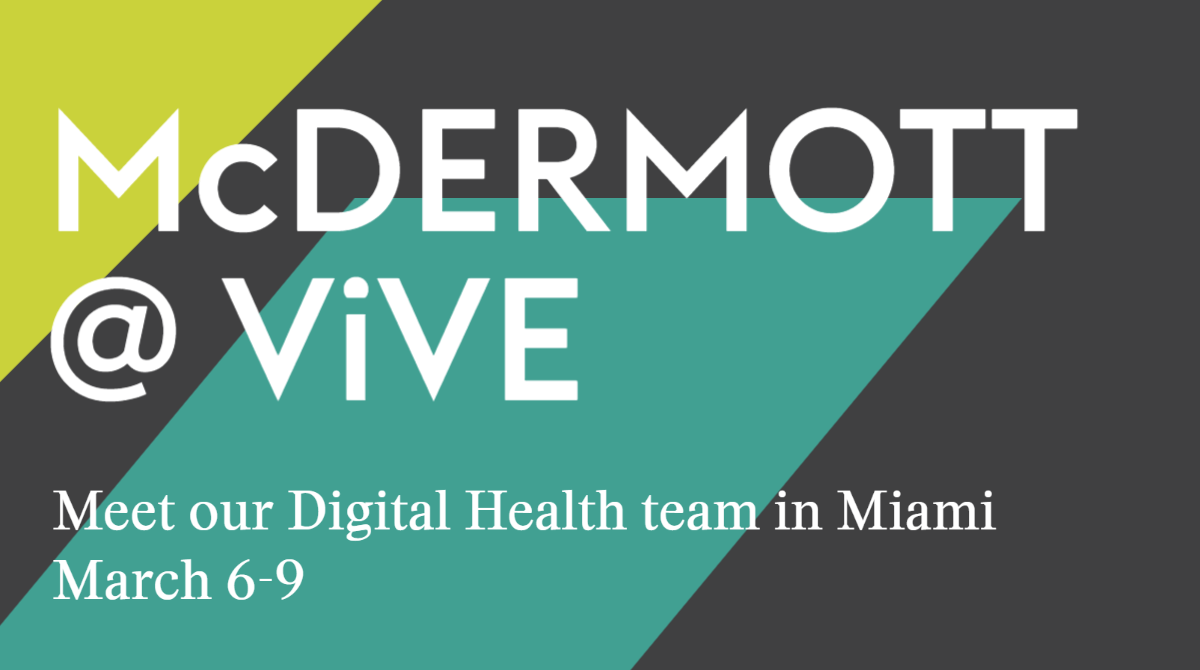 McDermott Live From ViVE 2022
Partners from our Digital Health practice headed to Miami for ViVE 2022, the inaugural health tech conference hosted by HLTH and CHIME. During the event, we spoke with each of them for their insights on the conference, the state of digital health innovation, the investment landscape and more. Watch these short videos for their perspectives on what's now and what's next in digital health, and how the McDermott team and help your company pursue your next innovation.
THE LAW OF DIGITAL HEALTH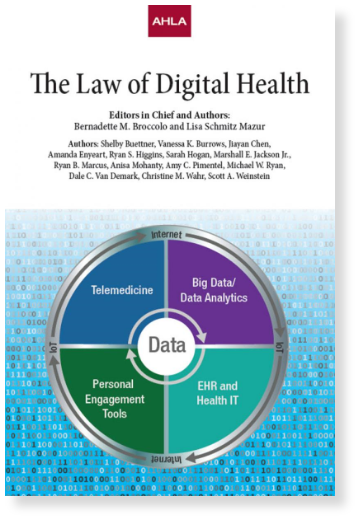 A book about the role of digital health in the transforming healthcare landscape.
The Law of Digital Health offers an overview of the opportunities, challenges and strategies arising from the highly dynamic components of the digital health ecosystem: health information technology, big data and data analytics, telemedicine and mobile personal engagement tools.
This book helps business leaders and their advisors understand, embrace and manage the legal implications of existing laws and regulations, as well as emerging policies that affect digital health product development, go-to-market strategies and cross-industry collaborations.
Spearheaded by editors-in-chief and authors Bernadette M. Broccolo and Lisa Mazur, and authored by more than a dozen McDermott Health lawyers, The Law of Digital Health provides first-of-its-kind legal information on the digital health space.
Published by the American Health Lawyers Association, The Law of Digital Health is now available to order.