checklists and committee insights
THE GOVERNING HEALTH PODCAST
In today's economic and regulatory environment, healthcare corporations and their leadership face a host of legal and reputational challenges that must be addressed strategically and proactively. The Governing Health thought leadership series, delivered by McDermott governance partner Michael W. Peregrine, provides engaging, issue-based resources on the risk areas corporations face and how the general counsel's office and the board can address them.
THE CRITICAL ROLE OF EFFECTIVE GOVERNANCE IN CREDIT ANALYSIS
SARBANES OXLEY'S LEGACY: A REFRESHER FOR CORPORATE DIRECTORS
BOARD DIALOGUE – EP. 4: ADDRESSING CURRENT SOCIAL AND ECONOMIC ISSUES
Board Engagement on Emerging Patient Care and Safety, Finance and Workforce Issues
The Great Resignation and Healthcare CEOs
Part Two – Priorities and Trends for the Compensation Committee
Part One – Priorities and Trends for the Compensation Committee
Managing the Whipsaw: Boardroom Expectations Through the Ebb and Flow of COVID-19
Why This Economic Thought Leader is Optimistic for the Future: John Challenger
Tired of Being Your Hero: Reimagining the Post-Pandemic Healthcare Industry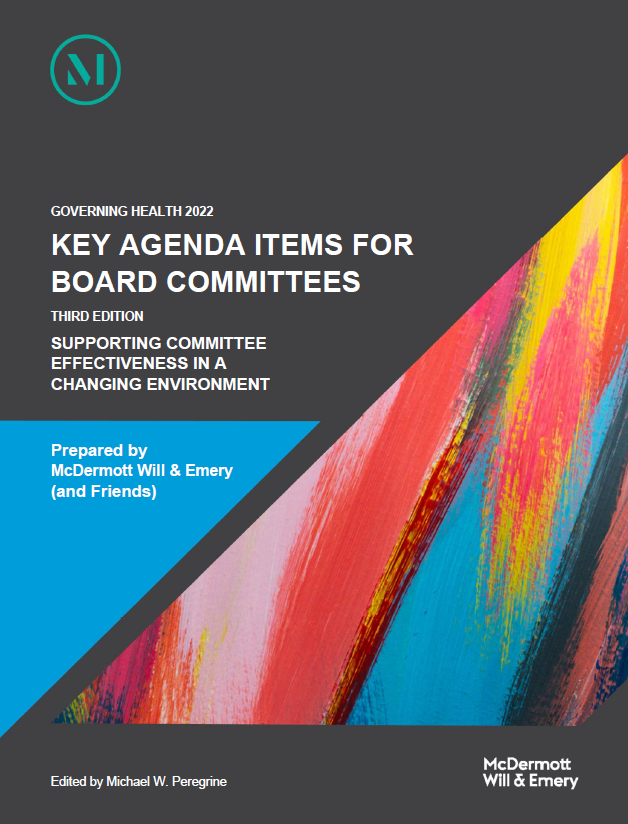 KEY AGENDA ITEMS FOR BOARD COMMITTEES, THIRD EDITION: SUPPORTING COMMITTEE EFFECTIVENESS IN A CHANGING ENVIRONMENT
In this latest edition, we're focusing on the unique and special issues committees should include in their 2022 agenda, especially those that are driven by the events of the last two years.