Hospitals and Health Systems
We partner with hospitals, health systems and provider organizations across the United States and around the world on all aspects of healthcare legal, investment, operations and regulatory matters. As the top-ranked healthcare law firm, we advise clients on all elements of the health industry. The results are operational efficiencies and reduced costs, optimized investments in technology and innovation, and improved patient care and safety.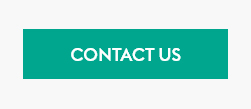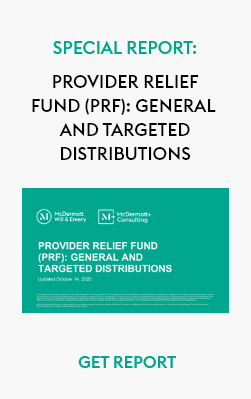 HOSPITALS AND RENEWABLE ENERGY: NEW FINANCIAL INCENTIVES AND OPPORTUNITIES IN THE INFLATION REDUCTION ACT
November 2022
The Inflation Reduction Act (IRA) is the largest climate change legislation ever enacted in the United States and abroad, and it will have a powerful impact not only in the energy space but also in the healthcare and hospital sectors. It includes provisions that offer new financial incentives to hospitals investing in renewable energy, emissions reduction and energy efficiency. Explore key opportunities and actionable steps that your in-house team stakeholders need to know about how to take advantage of what the IRA has to offer.
DEPARTMENTS ISSUE FINAL RULE IMPLEMENTING CERTAIN NO SURPRISES ACT PROVISIONS
August 25, 2022
CMS PROPOSES KEY DETAILS FOR PAYMENT METHODOLOGY, QUALITY MEASURES AND ENROLLMENT POLICIES FOR RURAL EMERGENCY HOSPITALS

July 20, 2022
OIG ISSUES UNFAVORABLE OPINION ON LABORATORY SPECIMEN COLLECTION PAYMENTS TO HOSPITALS

July 12, 2022
CMS SEEKS TO ESTABLISH REGULATIONS LIMITING CRITICAL ACCESS HOSPITAL LOCATION REQUIREMENT

July 7, 2022
ONE STEP CLOSER TO A NEW PROVIDER TYPE: CMS ISSUES PROPOSED RULE ON RURAL EMERGENCY HOSPITAL CONDITIONS OF PARTICIPATION
July 7, 2022
BIDEN ADMINISTRATION TAKES ACTION TO IMPROVE COMPETITION, TRANSPARENCY AND QUALITY FOR HOSPITALS AND NURSING HOMES

April 22, 2022
CONVERSATIONS ON HEALTH CARE GOVERNANCE: DUTIES OF NONPROFIT BOARD MEMBERS
CONVERSATIONS ON HEALTH CARE GOVERNANCE: ISSUES FACING NONPROFIT BOARD MEMBERS
CONVERSATIONS ON HEALTH CARE GOVERNANCE: ADVISING NONPROFIT BOARD MEMBERS
DRIVING THE DEAL: HEALTHCARE ANTITRUST IN THE BIDEN ADMINISTRATION WITH ASHLEY FISHER
DRIVING THE DEAL: THE NO SURPRISES ACT WITH BRIAN STIMSON
Driving the Deal: Unwinding the Public Health Emergency with Brian Stimson
DRIVING THE DEAL: A LENDER'S PERSPECTIVE ON HEALTHCARE PE DEALS
Driving the Deal: Clearing Regulatory Hurdles in Public Hospital M&A
DRIVING THE DEAL PODCAST: RESTRUCTURING AND BANKRUPTCY CONSIDERATIONS
Driving the Deal: Public Hospital M&A and Stakeholder Buy-In
Dealmaking in the Sunlight: Navigating Public Hospital M&A
Collaboration Through Innovation Centers
NEW FINANCIAL INCENTIVES AND OPPORTUNITIES IN THE INFLATION REDUCTION ACT
November 1, 2022
PROPOSED CHANGES TO CRITICAL ACCESS HOSPITALS & RURAL EMERGENCY HOSPITALS
August 23, 2022
REGULATORY DISPUTES WITH HHS: WHEN TO NEGOTIATE AND WHEN TO LITGATE
March 25, 2021
340B IN 2021: WHAT COVERED ENTITIES NEED TO KNOW NOW
March 18, 2021
ANSWERING PROVIDERS' VACCINATION QUESTIONS
FEBRUARY 2, 2021
DATA LICENSE AGREEMENT LITIGATION – WHAT YOU NEED TO KNOW
OCTOBER 28, 2020
PAVC TELEHEALTH: PERSPECTIVES ON THE PATIENT EXPERIENCE DURING COVID-19 AND BEYOND
OCTOBER 29, 2020
APIS AND INFORMATION BLOCKING: WHAT PROVIDERS NEED TO KNOW
OCTOBER 13, 2020
Structuring Your Innovation Center Investment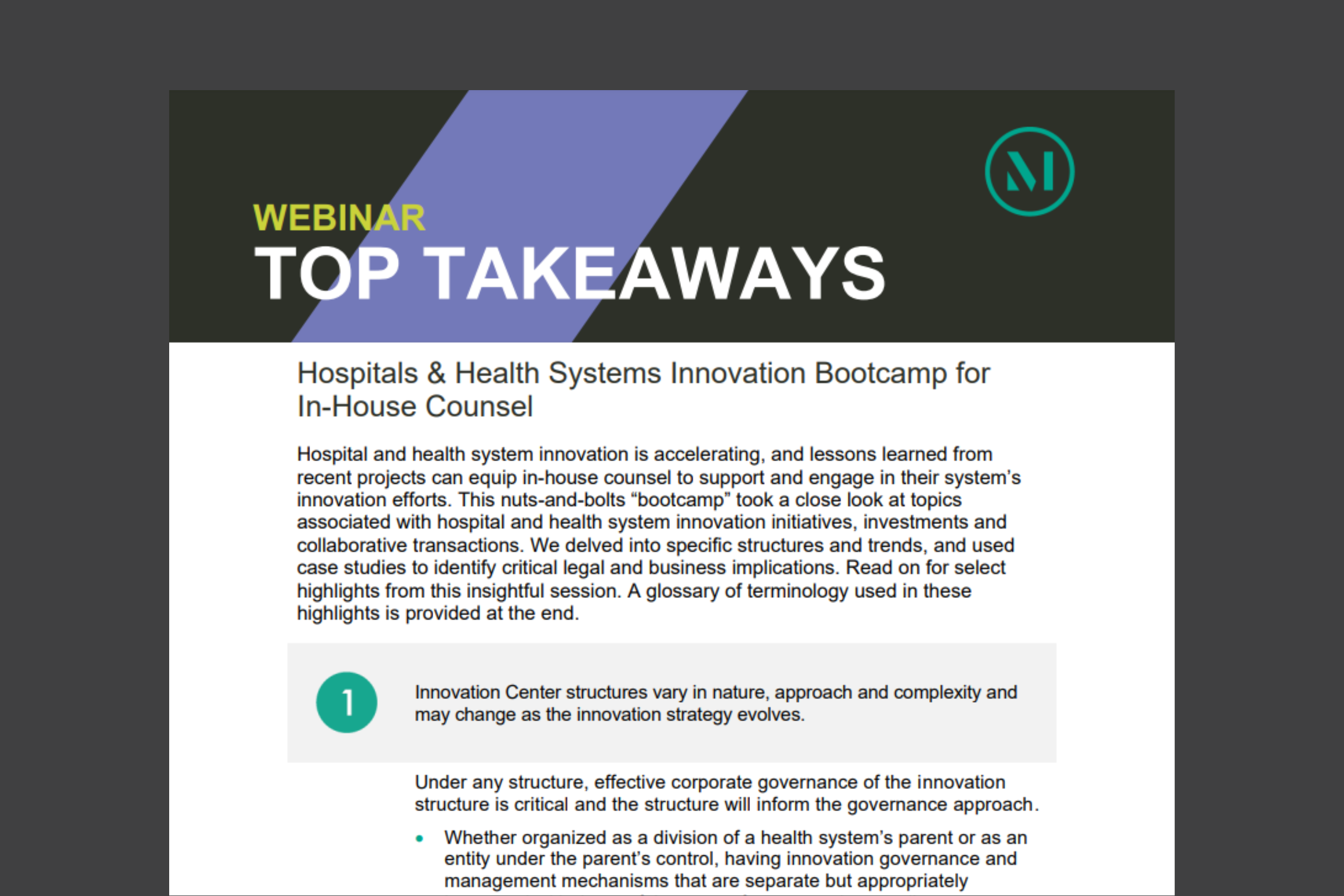 KEY TAKEAWAYS: HOSPITALS & HEALTH SYSTEMS INNOVATION BOOTCAMP FOR IN-HOUSE COUNSEL
ESTABLISHING A CPOD MODEL: 5 INITIAL STEPS FOR EMPLOYERS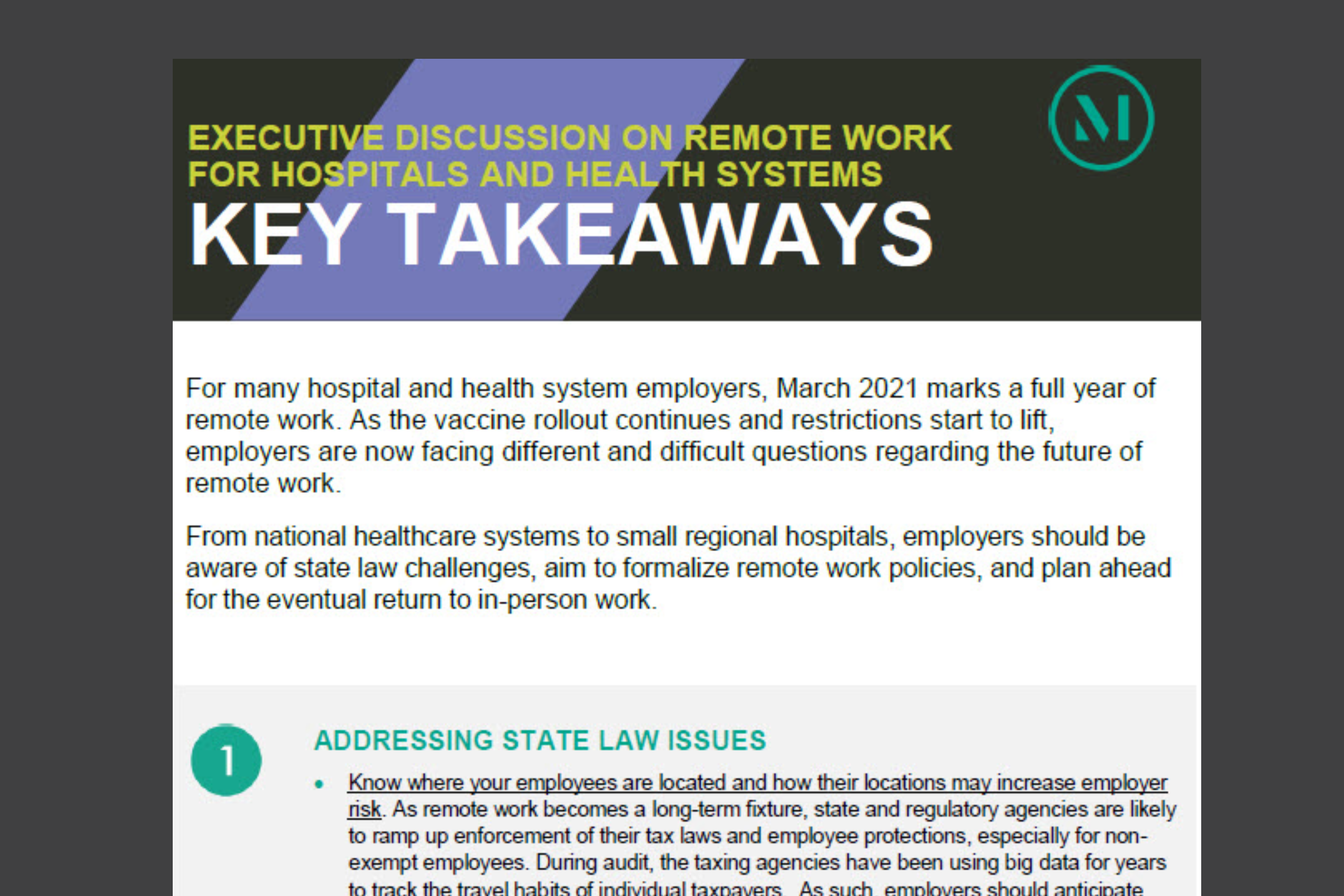 KEY TAKEAWAYS: REMOTE WORK FOR HOSPITALS AND HEALTH SYSTEMS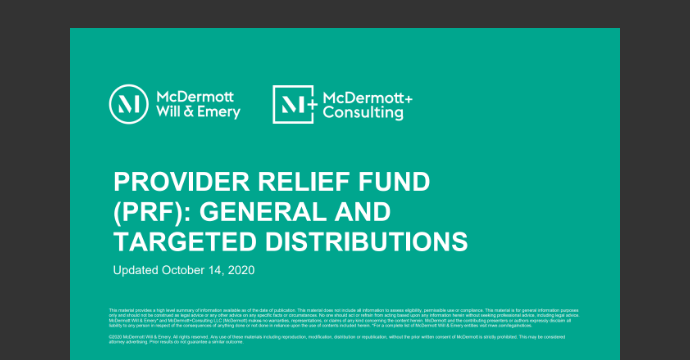 PROVIDER RELIEF FUND (PRF): GENERAL AND TARGETED DISTRIBUTIONS
Hospitals & Health Systems Team Leads
Hospitals & Health Systems Team