Hospitals and Health Systems
We partner with hospitals, health systems and provider organizations across the United States and around the world on all aspects of healthcare legal, investment, operations and regulatory matters. As the top-ranked healthcare law firm, we advise clients on all elements of the health industry. The results are operational efficiencies and reduced costs, optimized investments in technology and innovation, and improved patient care and safety.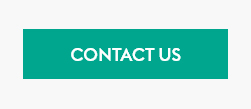 KEY TAKEAWAYS: HOSPITAL AND HEALTH SYSTEM INNOVATION AND TRANSFORMATION AT THE 2023 J.P. MORGAN HEALTHCARE CONFERENCE
February 2023
Leaders in health system innovation joined McDermott and EY at the 2023 J.P. Morgan Healthcare Conference to discuss how hospitals can address current financial and operational issues while also positioning their systems to compete in an evolving healthcare landscape. Panelists cited diversifying and digitizing healthcare access as a means of transforming health systems into more consumer-oriented healthcare companies.
MEDICARE PROVIDERS TAKE NOTE: STARK LAW-RELATED CHANGES FROM CMS
April 11, 2023
CMS ISSUES MEDICARE DRUG PRICE NEGOTIATION INITIAL GUIDANCE, FIRST INFLATION REBATE LIST
April 4, 2023
FEDERAL JURY RETURNS $43 MILLION VERDICT FOR KICKBACK SCHEME IN VIOLATION OF THE FALSE CLAIMS ACT
March 29, 2023
REMOTE MONITORING SERVICES UNDER REVIEW: UPDATE ON POTENTIAL MEDICARE COVERAGE POLICIES
March 2, 2023
DEA PROPOSES LIMITED POST-PHE TELEMEDICINE PRESCRIPTION OF CONTROLLED SUBSTANCES
February 28, 2023
CMS FINALIZES LONG-AWAITED RULE ON MEDICARE ADVANTAGE RADV AUDITS
February 3, 2023
TRENDS AND DEVELOPMENTS IN DIRECTOR/OFFICER LIABILITY: CONCEPT OF OFFICER AND DIRECTOR LIABILITY AND RELATED STANDARDS OF CARE
TRENDS AND DEVELOPMENTS IN DIRECTOR/OFFICER LIABILITY: PARTIES WITH PRIMARY JURISDICTION TO CHALLENGE OFFICER AND DIRECTOR CONDUCT
TRENDS AND DEVELOPMENTS IN DIRECTOR/OFFICER LIABILITY: NEW DEVELOPMENTS IN OFFICER AND DIRECTOR LIABILITY MATTERS
DRIVING THE DEAL: HEALTHCARE ANTITRUST IN THE BIDEN ADMINISTRATION WITH ASHLEY FISHER
DRIVING THE DEAL: THE NO SURPRISES ACT WITH BRIAN STIMSON
Driving the Deal: Unwinding the Public Health Emergency with Brian Stimson
DRIVING THE DEAL: A LENDER'S PERSPECTIVE ON HEALTHCARE PE DEALS
Driving the Deal: Clearing Regulatory Hurdles in Public Hospital M&A
DRIVING THE DEAL PODCAST: RESTRUCTURING AND BANKRUPTCY CONSIDERATIONS
Driving the Deal: Public Hospital M&A and Stakeholder Buy-In
Dealmaking in the Sunlight: Navigating Public Hospital M&A
Collaboration Through Innovation Centers
THE CONFLICTS OF INTEREST "PUZZLE:" KEY GUIDELINES FOR GENERAL COUNSEL
December 13, 2022
NEW FINANCIAL INCENTIVES AND OPPORTUNITIES IN THE INFLATION REDUCTION ACT
November 1, 2022
PROPOSED CHANGES TO CRITICAL ACCESS HOSPITALS & RURAL EMERGENCY HOSPITALS
August 23, 2022
REGULATORY DISPUTES WITH HHS: WHEN TO NEGOTIATE AND WHEN TO LITGATE
March 25, 2021
340B IN 2021: WHAT COVERED ENTITIES NEED TO KNOW NOW
March 18, 2021
ANSWERING PROVIDERS' VACCINATION QUESTIONS
FEBRUARY 2, 2021
DATA LICENSE AGREEMENT LITIGATION – WHAT YOU NEED TO KNOW
OCTOBER 28, 2020
PAVC TELEHEALTH: PERSPECTIVES ON THE PATIENT EXPERIENCE DURING COVID-19 AND BEYOND
OCTOBER 29, 2020
Structuring Your Innovation Center Investment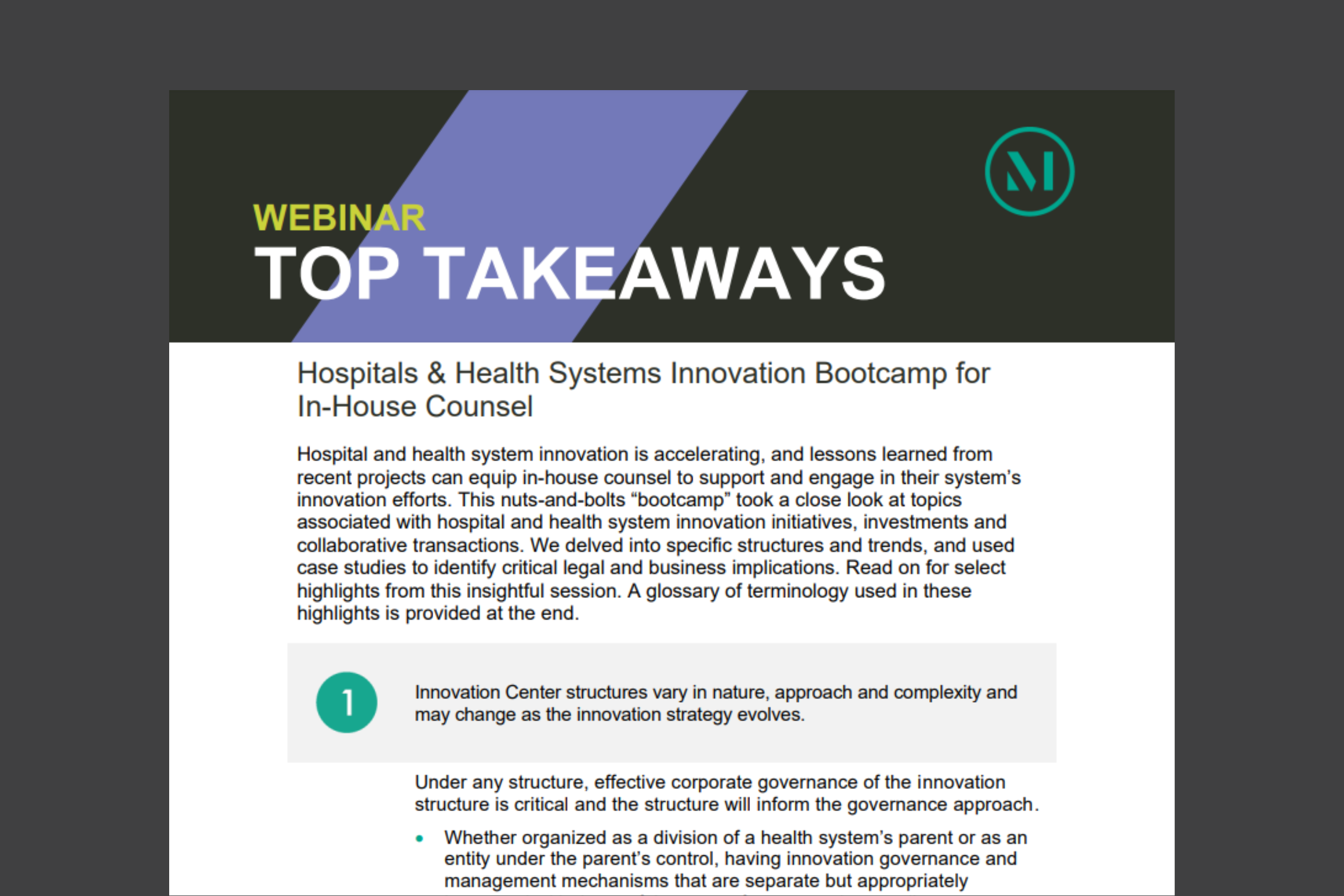 KEY TAKEAWAYS: HOSPITALS & HEALTH SYSTEMS INNOVATION BOOTCAMP FOR IN-HOUSE COUNSEL
ESTABLISHING A CPOD MODEL: 5 INITIAL STEPS FOR EMPLOYERS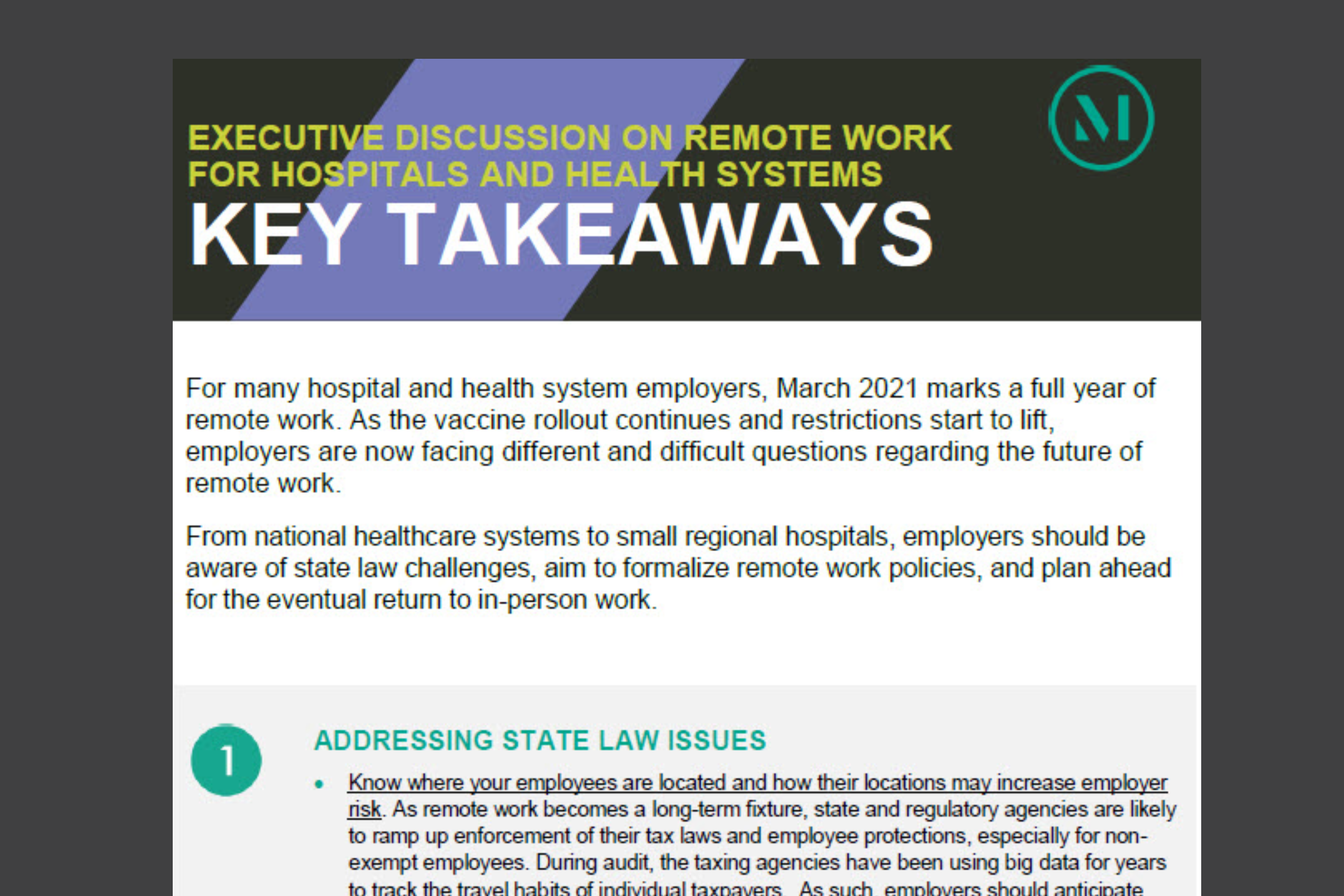 KEY TAKEAWAYS: REMOTE WORK FOR HOSPITALS AND HEALTH SYSTEMS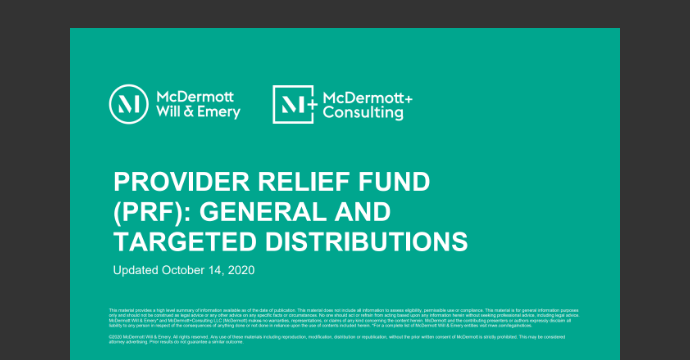 PROVIDER RELIEF FUND (PRF): GENERAL AND TARGETED DISTRIBUTIONS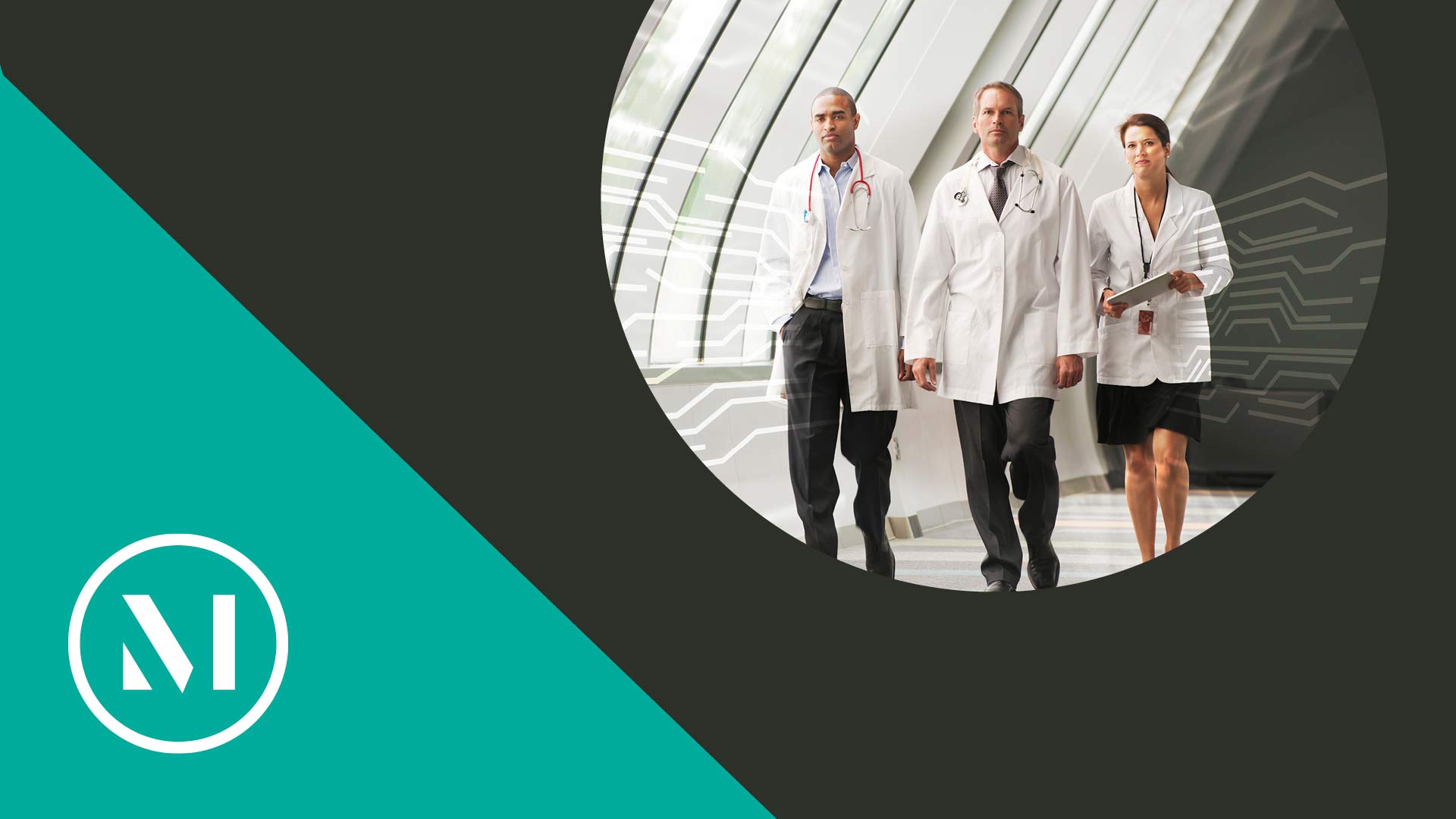 HOSPITALS & HEALTH SYSTEMS INNOVATION SUMMIT 2022
This one-day conference, held October 21, 2022 in New York, explored the emerging trends and cutting edge partnerships across the industry that are transforming the business of healthcare. The Hospitals & Health Systems Innovation Summit provides premier opportunities to learn from and connect with C-suite executives, top strategists, investors, bankers and other leaders as they share insights on how to innovate, collaborate and grow in a dynamic healthcare landscape.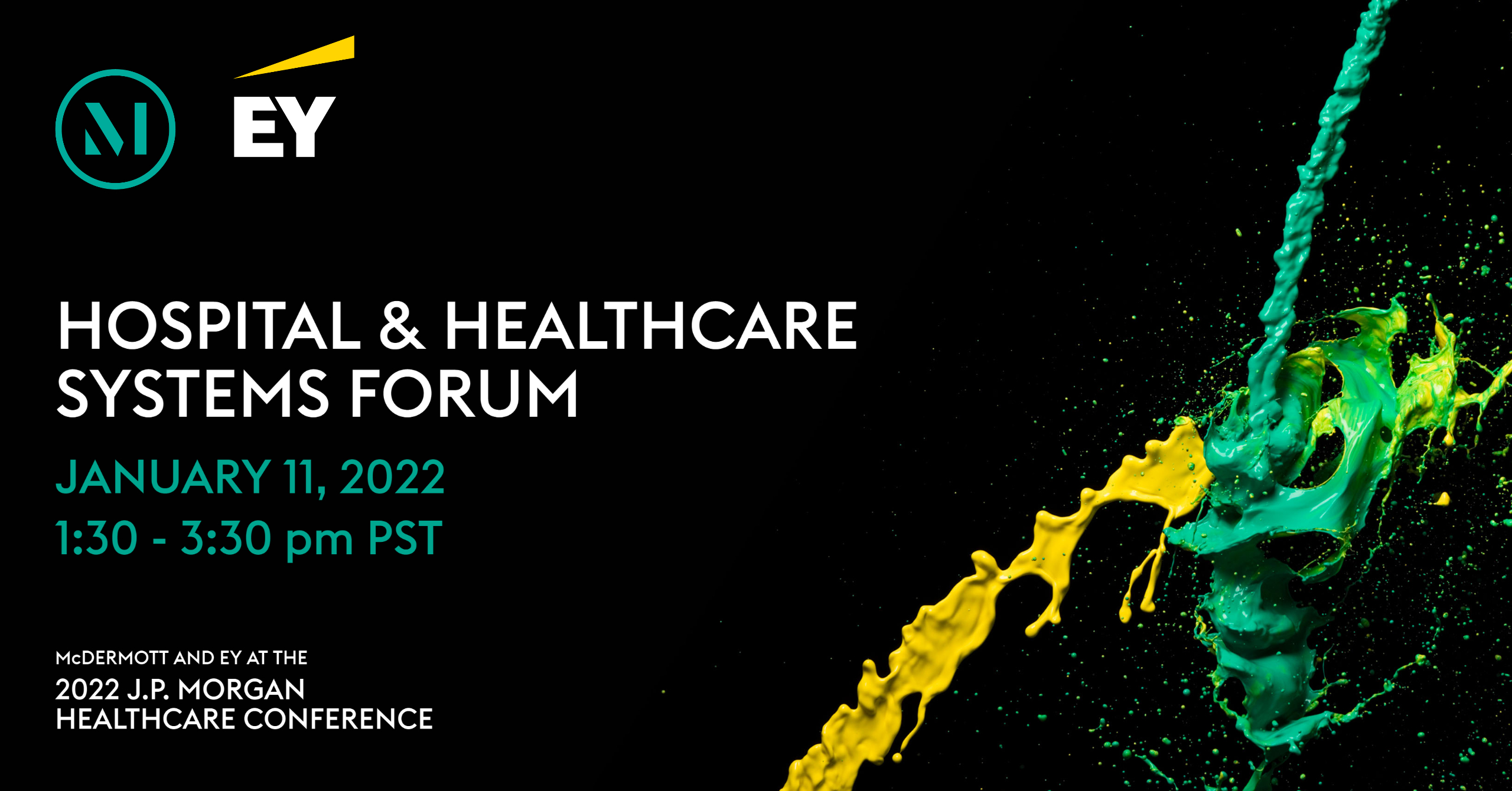 McDERMOTT AND EY AT THE 2022 J.P. MORGAN HEALTHCARE CONFERENCE
HOSPITAL & HEALTH SYSTEMS FORUM
Industry leaders, innovators and investors from across the healthcare industry will gather together for two days of exclusive, hybrid events at the largest healthcare investment symposium. Join executives from PE firms, investment banks, hospitals, health systems and other industry-leading organizations for discussions on the critical business and legal issues encountered by leaders across the healthcare industry.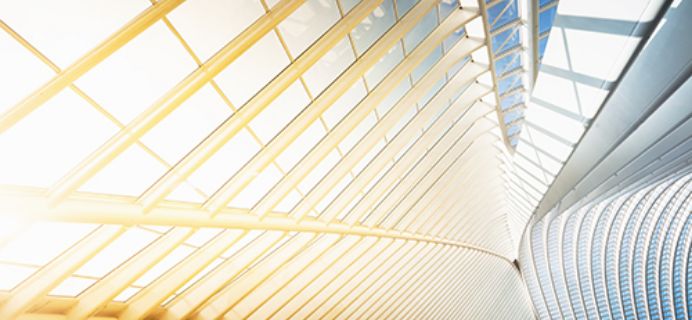 2020 HOSPITAL & HEALTH SYSTEM INNOVATION SUMMIT
This summit will give C-suite executives, in-house counsel, investors and other healthcare leaders the insights they need to position their organizations to innovate, collaborate and grow even in the midst of disruption.
Hospitals & Health Systems Team Leads
Hospitals & Health Systems Team